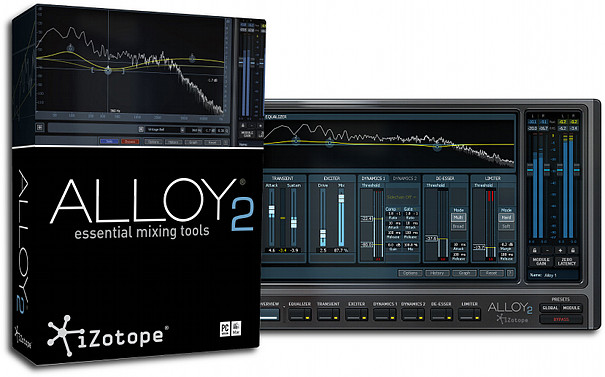 iZotope Alloy 2 Signal Processing Software Suite at a Glance:
Shape your tracks with Alloy 2's powerful 8-band EQ Add brilliance, warmth, and crunch to your mix with the fully-redesigned ExciterUp the smash factor with Transient ShaperDynamics gives you the best characteristics of both analog and digital compressorsSquash those pesky "s" sounds with De-EsserGive your mixes max slam factor with Alloy's Limiter moduleOver 250 easy-to-deploy Presets
Alloy 2 gives you futuristic tools, fast results and most importantly, fantastic sound. Bring character and life to every element of your mix with Alloy 2.
Far more than just a traditional channel strip, Alloy 2 is a modern twist on classic mixing. The basics have been re-imagined with forward-thinking features and time-saving flexibility. Innovative sound sculpting tools are ripe with potential for delivering your distinctive sound. And best of all, Alloy 2 allows you to focus on mixing without distraction, neatly packaging the mixing essentials in a self-contained and completely configurable plug-in that puts everything you need at your fingertips.