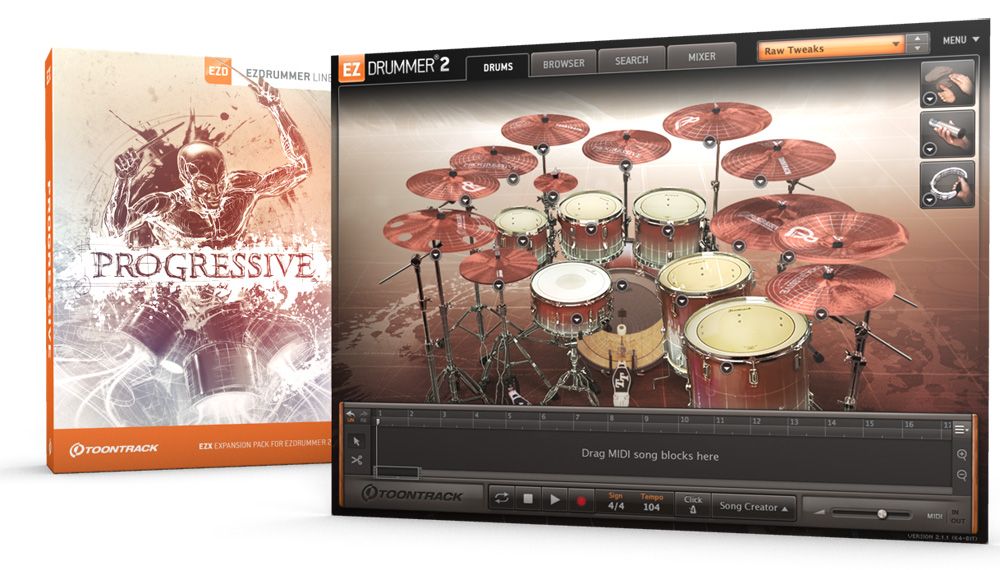 The
Progressive EZX features a custom selection of content from The Progressive Foundry SDX for Superior Drummer 2. It comes with three complete kits recorded by engineer/producer Forrester Savell. With credits on defining albums by bands like Karnivool, Dead Letter Circus and I Am Giant, Savell has shaped a few of the most sonically progressive productions in the modern Australian metal and heavy rock scene.
The drums were captured at the Sing Sing Recording Studios in Melbourne, Australia. During its more than 35 years in business, the studio has collected a vast selection of top tier microphones and rare outboard gear. Combined with the dense wood-lined walls in its perfectly balanced A-room, Sing Sing has proven time and time again to be the perfect environment for broad, transparent drum recording. The drums, which were sampled by Karnivool's own Steve Judd, include carefully selected kits from DW, Ludwig and Pearl.
Together with the included presets, the Progressive EZX gives you an unparalleled palette of meticulously recorded, richly textured drum sounds tailored for metal or heavy rock. Start writing!
FEATURE SPOTLIGHT
• Three (3) complete kits and a wide range of cymbals
• 14 mix-ready presets tailored for metal and heavy rock
• Recorded by Forrester Savell (Karnivool, Dead Letter Circus)
• Sampled by Steve Judd (Karnivool)
NEED SOME INSPIRATION?
Here's a mixed playlist with some genuinely proggy stuff to get your inspiration going. The list is collaborative – add YOUR favorite song!
ถ้าหากสนใจโปรแกรมนี้ ติดต่อ 0894847933 หรือLine. suchin-r. 24ช.ม.ครับ
หรือ
สั้งซื้อออนไลน์
SHOP NOW